Google Street View is a premium-quality, 360-degree interactive virtual tour of your business powered by Street View technology. It's simple, fast and affordable.
VIRTUAL TOURS HELP DOUBLE INTEREST IN BUSINESS LISTINGS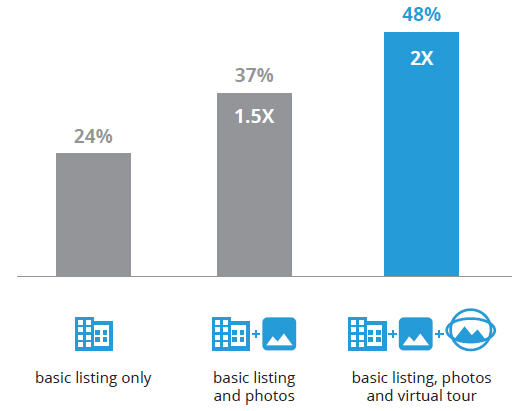 Those who view a listing with a virtual tour are twice as likely to be interested in making a purchase. And among 18-34 year olds in particular, prospects are 130% more likely to purchase something based on a having a tour.
The benefits of Google Street View and your return on investment;
Invite customers inside to experience your business's ambiance and decor with familiar Street View navigation.
Add premium imagery to your presence in Google Search results, Google Maps and Google+.
Customers can Google Maps Business View on their computers, smartphones or tablets.
Examples:
Dr Harr Orthodontics Ventura, CA

Kids World Family Entertainment Center Oak Park, CA